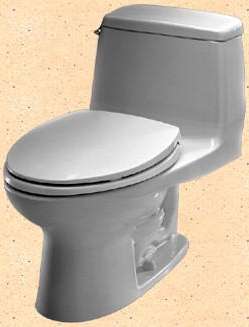 : I'm new to this stuff. :) What are the benefits of the elongated bowl? Bob
Bob,
It has to do with comfort.
I and others believe that the round front bowl, dating from the time that the outhouse was moved inside the home, using water in a bowl instead of a hole cut in wood planking, should have considered how large a hole to cut. I know in Europe, it's important to continue doing what your ancestors have always done. If the first person makes a mistake, it's important for everyone to follow without question,
"because it's always been that way."
I prefer to look at things as, "How SHOULD it be?"
Bob, if you can't tell the difference between the small confined space of the round bowl and the added 1.5" length of the elongated bowl, save the money and buy the round. Terry