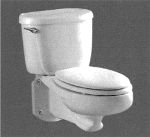 : Does the American Standard Glenwall wall mount toilet flush as well as the Toto Gmax or Ultramax? Are there any other GOOD wall mount toilets?
Don,
They work very well.
The main difference would be that it has the Flushmate which produces a different sound curve.
A bit more sound level at the beginning.
I consider it the best "wall-mount" toilet on the market.