Re: Dishwasher Installation
Posted by Terry Love on June 23, 2002 at 14:12:02:
In response to Re: Dishwasher Installation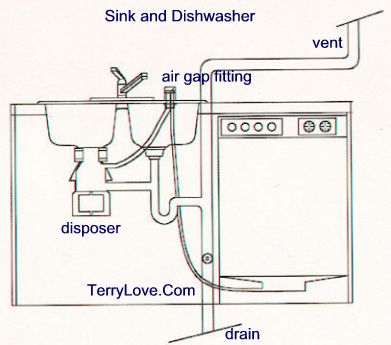 : Hello; I have an older home. The kitchen has never had a built-in dishwasher. It would not be difficult to cut the cabinet to make room for one. I have a double sink with a garbage disposal on the left side. What would I need to do underneath the sink to install the plumbing and would I need to replace my sink? My sink has only the 3 holes for the faucet.
D,
You can change the shutoff on the hot side, to a double shutoff, and run a 3/8" braided supply to a 3/8" comp x 3/8" mip 90 el fitting at the dishwasher.
The drain hose can drain into the disposer.
Depending on the area, you can either use the air-gap fitting like in the picture, or loop it as high as you can.
Terry



Replies to this post
There are none.