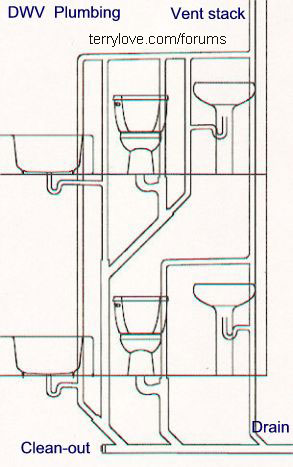 : Thanks for the reply, Terry.
: I'm a little confused though.
: It was my understanding, along with another individual's, that, when you drain your tub out, air will enter into the overflow, hence, allowing the water in the tub to properly drain through the tub drain, P-trap, etc.
Air entering through the overflow or the drain,
would be on the wrong side of the p-trap. Terry
In escence, the overflow allows for the "air-to-water exchange". There's still a P-trap in place to keep gas from entering up into the room.
: Then, a friend told me this morning that I should run a "T" between the drain and the Trap, and connect the "T" fitting to a seperate vent line.
: I appreciate your reply, I'm just still a little foggy with what is required.
Tom,
The overflow does nothing to prevent a siphon from happening.
It's on the wrong side of the p-trap.
Bathroom lav's have an overflow too.
The overflow does nothing in terms of venting.
I have been in many "handyman" plumbed bathrooms that were plumbed the way your friend suggests. It's awful for the homeowner. It would "never" be passed by a plumbing inspector. It doesn't work in the real world. If you look at the drawing above, you will note that each of the fixtures is vented. With the vent in the right place, your tub will drain quicker and the trap will not siphon. Tub drains that are not vent correctly will cause problems to the other plumbing fixtures too. Terry