Re: plumbing garbage disposal
Posted by Terry Love on May 16, 2002 at 18:55:45:
In response to Re: plumbing garbage disposal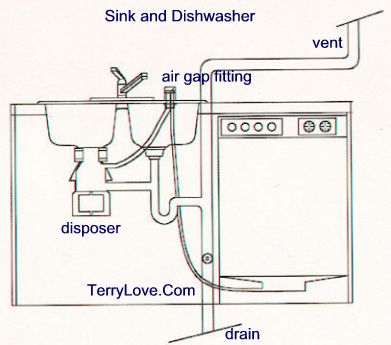 Kathie,
Most of the time with two basins, it would look something like the picture above.
I wouldn't use corregated tubing for the disposer drain. Terry
: A "real" plumber would have connected both drains together, and would never have used the corrugated one. hj
: : We have had an old two basin kitchen sink replaced. When the contractor reinstalled the garbage disposal, he installed it on the lower drain pipe and put the larger kitchen basin on the higher drain pipe where the disposal used to be....ARe there any problems with this? The disposal trap keeps plugging and blowing off the trap if we try to unplug it. Never ever happened before. Each have a trap, though the disposal one is corregated and flexible. I know this sounds nuts but we aren't sure you can put the disposal on the lower drain.
: : W also get funny tasting water out of the faucet momentarily when we turn it on...don't see how that can be connected to the disposal though!
: : Thanks!
: : Kathie Bauer
Replies to this post
There are none.