Re: tub and shower valves
Posted by Dr Love on April 09, 2002 at 00:23:49:
In response to Re: tub and shower valves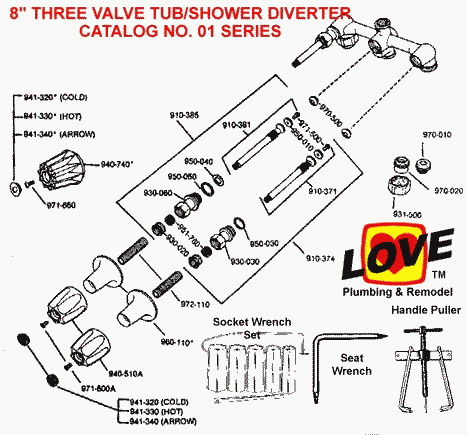 Brian,
Looking at the picture, it could be you are missing the loose fitting washer #90-040
This is not the washer that seals the stem, or the rubber washer that pushes against the valve seat. It fits loosely on the stem and is made of hard plastic. Without the washer, you will get water from the shower head and the tub spout.
Terry Love
: Dr. Love,
: I am having problems when taking a shower.
: The tub and shower both run water at the same time.
: I have a 25 or 30 year old home with price pfister double handle faucets with the diverter in the middle.
: I have replaced the enitre diverter(new stem and washers) and the problem still exists.
: I don't know what else could be the problem. Could the washers on the stems on the faucet handles be
: the problem? Help Dr. T. Love my wife is getting impatient. Save me
: Thanks,
: Brian Joyner
Replies to this post
There are none.