Re: need toilet recommendation
Posted by Terry Love on March 23, 2002 at 13:34:12:
In response to Re: need toilet recommendation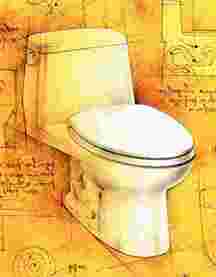 : My mother lives in a "condo" that is really a two story house that shares a common wall with another owner. She has two Kohler 1.6 gallon toilets (7-10 yrs old?)that don't flush well, especially after the grandkids have used them (and perhaps used too much paper?). She's had to call a plumber a couple of times. Is the Toto Ultramax the recommended replacement for her or should she consider anything else? Should she call a plumbing company that can do both the sale and installations? Any ideas on what removal of two old toilets and purchase and installation of the two new ones should cost her? She lives in Iowa. Thanks for any advice given!
David,
That is exactly the job we did in Bellevue this week. Replace three Kohler Wellworths with Toto Ultramax toilets in a condo. The other toilets on my list will work fine too. Some opt for the two piece models instead. The one-piece toilets do come with nice seats though.
Quoting pricing for another area is hard.
Replies to this post
There are none.