Re: ToTo new Plymouth toilet? any good
Posted by Terry Love on March 13, 2002 at 13:46:42:
In response to Re: ToTo new Plymouth toilet? any good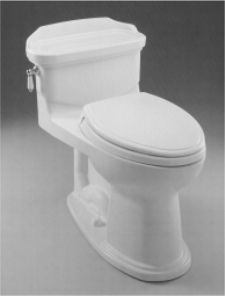 : I am told Toto has a new one-piece ADA toilet called the Plymouth MS924154F. Anyone have any info on them? I checked Toto web site but they don't have them listed yet. I would like to see a pix of it before I order one. Mark
Mark,
They are a traditional look with the good flush.
Bowl height is 16-1/8", what they call universal height, which is ADA compliant
In the Seattle area, I have them in cotton/white, colonial white, and Sedona Beige.
List on the whites is $620, beige $713
I sell the whites for $459, beige for 529
I'm not shipping out of state at the moment. If you are in the greater Seattle area, I can help you. Terry
Replies to this post
There are none.