Ever hear of a Pegasus brand faucet?
Posted by Carol in McHenry on January 10, 2002 at 20:35:06: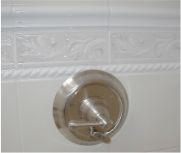 Saw a Pegasus brand faucet at Home Depot. It was about $70 more than the better Moen faucets and
weighted a ton. The faucet is made in China, but is solid brass and has a ceramic valve and brushed nickel
finish. The problem is that I don't know anything about this brand. Does anyone out there have any
experience with Pegasus? It was much better looking than any of the others and I'd really love to get them
to outfit three sinks, a tub, and shower stall. I also thought I'd go back to Home Depot and see ifreplacement parts
are readily available. Need your advice. Thanks much!