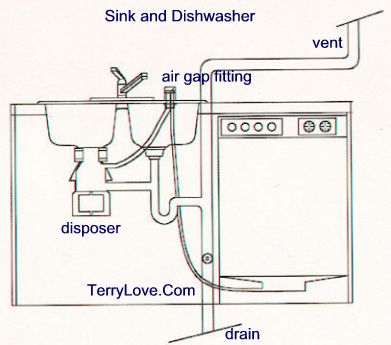 : I have a dishwasher that has always had water run from the airgap. After looking at the original installation, I have become suspect that it is incorrect.
: The discharge hose from the dishwasher runs directly to the airgap, then to the disposal.
: It seems to me that the airgap should act as a "vent" rather than a direct route to the disposal.
:
: Could you give me some kind of idea as to the routing of the plumbing from the dishwasher to the disposal, and where the airgap comes into play.
: Thank you all so much for knowledge far superior to mine.
: GH
Thanks GH,
In plumbing, there is the consistent 1" air gap rule. You will notice that spouts end at least 1" above the flood level of a fixture.
Outside faucets now have antisyphon devices, Irrigation systems have backflow preventers.
The dishwasher uses an air gap device that prevents the waste from going back to the dishwasher. Before the sink gluck can back fill or siphon into the dishwasher, the sink would overflow onto the counter and still no gluck would find it's way back to the dishwasher.
It's one of the many things we do in plumbing to preserve the purity of the water we drink and the cleanliness of the water we use.
Terry Love