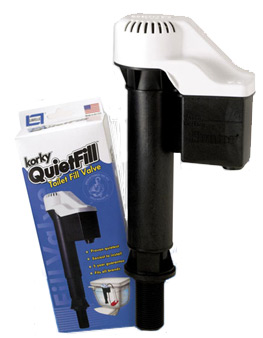 : We are building a new house for retirement. Naturally we want to make right choices and Love's comments about the Toto UltraMax Power Gravity
: toilets are steering us toward that product. When I looked at the printout of the Power Gravity with an inside view, I noticed a mechanism that I usually
: don't see, it occurred to me that it was an added item, different from the norm, and therefore could break. I also realized that Terry Love's critique of Toto
: Power Gravity toilets dealt only with the flushability of the toilets, but had no information about the reliability and repair history of the mechanical device that causes a "power
: gravity" flush. Does anyone out there have any personal history with the Power Gravity mechanism?
Carol,
The fill valve on the Ultramax and other high end Toto models uses a fill valve made by Korky. These have been used by plumbers for some time now.
The 3" flush valve, is a Toto original. Much more volume of water can be moved than with the antiquated 2" valve. Some companies claim they use an engineered 2" valve, Really?? The two inch valve has been around for a hundred years. They must have some pretty old engineers.
The three inch flush valve really kicks it for the Toto line.