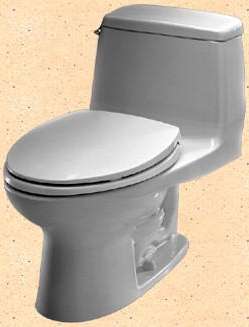 : Terry , Can you say something that will be the final word in convincing my parents that Toto toilets, especially the Ultramax, are worth the extra cost. I have downloaded all the written material that convinces me beyond a reasonable doubt, but my parents are a harder sell and are "stuck" in the old mantra that "low flow is bad", and pay as little as possible for toilets because they all do the same thing. They are also concerned that Toto is more difficult/expensive to install.
: Say something Terry, I need a soundbite to convince them that Toto's performance is worth the extra cost! Thanks...Love your website!
Leslie,
It starts in the 70's in Japan when they had their water crisis. They too had to deal with using less water. Over time they came up with new ways of looking at the age old problem of how to move waste quickly and with ease.
One new change they made was to increase the size of the flush valve from 2" to 3". It doesn't sound like much, but it is 2.5 times the volume of the old design. Now they had a means of dropping the water quicker from the tank. Like about 2-1/2 times quicker!
Then they worked on the trapway bends. By making the footprint of the toilet longer toward the wall, they were able to make longer smoother bends. Not those tight right-angle bends like the old days.
The next step was to change the molding process. Instead of using wet material, that shrank and deformed as it dried, they used pressure molding in Stainless forms, that allowed dryer material. Thus less shrinkage and better consistency
in the shape of the trapway.
They next tested with natural looking and feeling material, similar to what you would expect to flush down one of these things. Not round floaty ping pong balls, but rather disgusting looking stuff.
And that's why, in my opinion, they are worth a bit more. These puppies work very well. They are a totally different kind of animal after all.
Terry