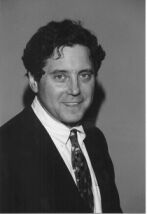 Thanks to those who called or wrote yesterday. It was a difficult time
of course. I began the morning by driving to Crystal City, Arlington,
Virginia, which is fairly close to the Pentagon and Reagan/National
airport, for a hearing on a proposed Hague treaty on jurisdiction. My
wife Manon was returning from an ICANN meeting in Uruguay, and was
scheduled to land at Reagan/National Airport around 9:07 on a United
flight from Miami. I arrive at the hearing room in the "Patent Theater'
a little after 9 am, we hear that a plane has struck one of the World
Trade Center towers. I assume they are speaking about a small
aircraft. A few minutes later, we are told a second plane has hit the
World Trade Center (at 9:03), and it begins to dawn on people that
something larger is going on. Manon finally lands at National Airport
at 9.27, but has to wait for baggage, admid signs of alarm, including
stewardesses breaking down in tears. At 9:40 the airport is shut down,
and at 9:43 a hijacked plane hits the pentagon. The explosion and
subsequent fire creates a huge amount of smoke. There is bedlam at the
Airport.

At Crystal City, everyone is trying to use cell phones to find out what
is going on. I call our office and we are told that there are reports
that the Old Executive Office Building has been hit, and that there are
reports of bombs at the State Department, on the Mall, and in the
Capitol building, and that air traffic is grounded. The hearing on the
Hague treaty had began, but is then interrupted to find out what is
going on. The most determined person in the room is the plucky and very
pregnant Jennifer Lucas from the Patent Office, and who wants to proceed
with the hearings ("no one is going to bomb the patent office" she
reasons). Richard Stallman, who has flown in from Mexico for the
hearings, calls me to ask what is going on, and I suggest he turn on the
television, and that it appears as though the hearing will be
cancelled. We are then told the Patent Office building will be closed,
and everyone begins to make their way home. I get a call from South
Africa telling me there are reports that another hijacked plane is
heading from DC.

Manon has somehow gotten her luggage from the airport, and flagged a
pickup truck, who gives her a lift to Crystal City. We then try to
drive home, first with Vergil Bushnell, Rob Carlson and Dave Burstein,
who were attending the hearing, but decide to try their chances with the
subway, after looking at the gridlock on the roads. Before they take
off we have a brief discussion of the future of Internet and
telecommunications privacy laws, given the predictable reaction to the
attack.

We are struck in traffic outside the Patent Office, when about a hundred
persons run by, many screaming and crying. Then everyone hits the
ground, and a policeman runs up to our car and shouts, "take cover."
After several minutes of a rather tense situation, people get up and act
as if nothing happened. On the radio, there are a wide range of
reports, including one that there are several other planes hijacked and
unaccounted for. We make our way to Costco, normally a good place to
shop, but on this day, a few blocks from the Pentagon, closed and a
somewhat eerie sight, with people streaming by, some who have walked to
Virginia over the 14th street bridge. Costco is providing free water,
rather fattening pastries, and a nice selection of free vegetables and
dip. At a close by DHL office we are told of bombs that have gone off
on 17th street in DC, (I work on 16th Street). Trying to get home, I'm
stuck in traffic for a long period of time, making a number of rather
bad decisions regarding which roads to take, at one point being in
complete gridlock near one intersection blocked off for another bomb
scare, which by this time, doesn't really alarm anyone. As they day
goes on, it appears as though most if not all reports of bombings are
false, with the exception of the ones involving the four hijacked
planes. I finally get home in time to watch the endless but riveting
television reports of the World Trade Center attacks and the Pentagon
bombing. Mark Wittink, our office manager at work, tells me his parents
have an apartment two blocks from the World Trade Center, but are not in
NYC that day. A friend of Mark's who works in the World Trade Center
for Lehman Brothers cannot be located, a bad sign. My own relatives in
NYC live and work in Mid-Town, and are fine.

It is now Tuesday, and so far, a quiet day. There is almost no traffic
coming into DC. Our office manager tells us that there are reports that
biological germ weapons, that won't take a toll for 3 days, have hit
DC. This and similar reports are dismissed as paranoia, and the office
is running, more or less.
Jamie