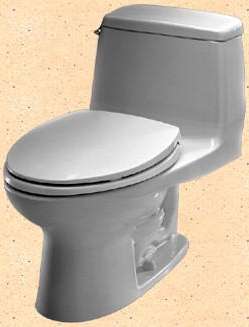 Hello Terry Love,

I just had to write and thank you. I moved in the last two years
and for the first time, was introduced to low flow toilets.

I have been TORTURED by an American Standard Cadet toilet (a 1994
model). Constant jams, clogs and odor (no matter how clean the
bowl was) plagued me. My second bathroom has a 1999 Gerber toilet.
It is much better than the Cadet but I still have regular clogs
that will not budge without at least a one hour session with a
plunger. Oh, my aching back and blistered hands!

Finally, I found your website and read your "Consumer Toilet Reports".
On your recommendations, I replaced the American Standard with a
Toto UltraMax. I have had it about 5 weeks now and I am thrilled
with its' performance! A strong, quick flush does the job every time.
I save on water, there is no odor, the seat is very comfortable and
my plunger is starting to gather dust.

I love my Toto toilet and will recommend it to everyone I can. What
a joy to once again, simply use the toilet and never give it another
thought. Thank you, thank you, thank you!!
Sincerely,

L M
Cranford, NJ