Re: Toto Drake ADA toilet
Posted by Terry Love on June 25, 2001 at 14:06:00:
In response to Re: Toto Drake ADA toilet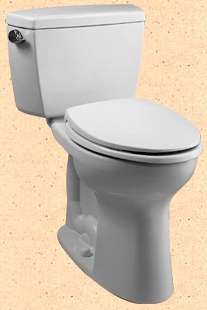 : I read that someone said the Toto Drake toilets are ugly. I was considering the Toto Drake ADA toilet (handicapped model) but don't want to settle for an ugly toilet even though the write-up sounds great as far as the flush goes. Would appreciate feedback on looks. What about the UltraMax, are the looks much better? Does the UltraMax come in an ADA size? Thanks for your Nancy
Nancy,
That's the first time I've heard that one.
In my opinion, the Ultramax does look better.
At the church I go to, we put mainly Ultramax and a few Drake ADA's Terry
Replies to this post
There are none.