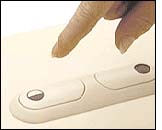 : Seattle Public Utilities is offering rebates on toilets at the moment. Since I just bought a new house and have 2 toilets which, it seems to me, take way too long to fill and are not low-flow, this may be a good time to replace them. I read about dual flush toilets. I've only just started my search and have checked Home Depot, which does not carry any. Are they available in Seattle and are the Coroma worth the extra $200 each? Any other manuf.'s available? Thanks! Viki
Viki,
The Caroma dual flush ( 1.6 / 0.8 ) is available in Seattle,
I will be getting my next shipment the first part of July, I'm taking orders now.
I sell the Reflections 305 for $320 with seat.
It's a nice looking toilet that saves water.
Others in that price range you may consider, would be in the Toto line which are not dual flush, but do a good job with 1.6
Don't expect to find these at the home centers.