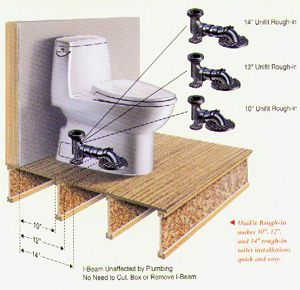 : My wife and I are struggling about the use of an offset flange. We have decided on a 12" toilet (Kohler Portrait), but have a 14" rough in. This is new construction, but there is a floor joist in the way so we had to go 14".
: Now, we have two options: Install the 12" toilet and it sticks out a couple of inches from the wall; OR we use an "offset closet flange". Of course, getting a 14" toilet is out of the question...
: I have heard that offset flanges are prone to clogging, etc. Using a pressure assisted toilet might help, but my wife doesn't like the sound of them. Is there really a risk of clogging with the flange, or will we be OK using one? If we are stuck, does a 12" toilet on a 14" rough in look ridiculous?
You may want to check your local code to see if they allow offset flanges first.
Many of the offset flanges should be fine. There are some with a nice slope to them.
To make the toilet look less obvious, you can add a shelf on the wall behind. It would make a nice place to put things also.
Why is a 14" toilet out of the question?
A good 14" ri toilet like the Toto's are only 28" for the elongated models.
Terry