Re: Kohler vs. Gerber gravity toilet
Posted by Terry Love on May 12, 19100 at 00:00:18:
In response to Re: Kohler vs. Gerber gravity toilet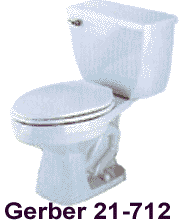 : : Help! I need to switch from old 5 gal toilet to new 1.6. My plumber recommends Kohler Wellworth or Memoirs with him modifying flapper (?) to create approx 3 gal flow. Does this sound like it will "move" more than a Gerber gravity with no modification? I have a one-bathroom house, so I can't afford any "down time" in case of clogs or breakdowns. (I wanted the Gerber Flushmate but am afraid of what happens if it needs servicing -- again only ONE bathroom and most plumbers may not carry these parts on their truck.) THANKS.
:
: you are right, most plumbers do not carry parts for the flushmate. the kohler wellworth is a fine flushing toilet without being modified, and is very nicely priced at around 90 bucks though nobody will guarantee against stoppages.
I installed a Gerber gravity model in my home the first of May. So far so good. Adding more water to the Kohler will help. They move water a bit slow. Terry



Replies to this post
There are none.