Re: How much h2o pressure is too high?
Posted by Terry Love on May 06, 19100 at 15:45:29:
In response to Re: How much h2o pressure is too high?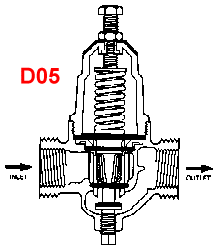 Most plumbing codes require a pressure reducer if the pressure is over 80 PSI.
I would rather have to turn down the pressure in a home than try to "up" the pressure. I have rarely had a customer complaining about reducing pressure, but many complaints when their pressure hangs around the 30 PSI level.
Things to consider when adding a reducer.
Try to keep it in repairable place.
Add a expansion tank for the water heater.
Add water hammer arresters at the dishwasher, washer, and ice maker.
Should the city pay for this?
It depends on how much you are willing to pay for your water bill. The utility can provide many benefits to homeowners if everyone pays "more".
Water pressure is determined by the height of the water tower, or the setting of the pump. The distance down from the source affects water pressure. People at the lower end of the hill, will have higher pressure to deal with. Those at the top, sometimes have "very" low pressure. For those, you can buy "pressure booster systems". Terry

Replies to this post
There are none.