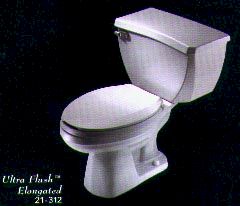 : You say "My favorite toilet is the UltraMax by Toto" but you don't say why. I check out Consumers Reports and find that Toto is not even listed among all that they review. Their Best Buy is the Gerber Ultra Flush 21-302.
David,
Consumer Reports had guys in white coats test 13 toilets. Most of the thirteen don't make it on my report. For that matter, they didn't do well on their report either.
My report is based on reports from plumbers in the field and homeowner feedback. I buy and install many of the toilets in my own home for long term testing. I sell to many "problem" customers. These are customers that are fed up with their current toilets. I sell them solutions.
I do sell many of the Gerber Ultraflush toilets, and have had one in the home.
I also have had the Toto Ultramax toilet installed in the home.
Both of these units do a good job flushing. Water surface is good, as is depth. Of the two, I recommend the Gerber if flush power is "most" important. For overall satisfaction, the Toto comes out ahead. The power is almost as good, with a less startling affect. In fact, it is fairly quiet. The fill valve on the Toto can be bought in any hardware store. Terry