Re: best toilet for 10 in. rough-in
Posted by Terry Love on April 26, 19100 at 15:50:27:
In response to Re: best toilet for 10 in. rough-in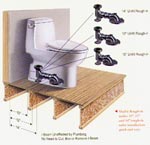 : What is the best toilet to get for a 10 in. rough-in space? How is the Toto Carusoe (713 or 714)
: or the American Standard Cadet II or Colony with the 10 in. rough-in? Are there other better choices?
: Do any of the pressure assist toilets come in the 10 in. rough-in?
Betsy,
The best 10" rough toilet?
It depends on several factors. Toilets with good water depth and flush would be either pressure assist of the upgrade Toto toilets. Gerber makes a 10" rough tank for their Ultraflush. Toto makes Unifit trap adapters to convert their skirted toilets to 10". Other models with less water in the bowl, and less cost, would be models like the new Cadet 10" and the Toto Carusoe 10"
Toto Carlyle MS874114S
Toto Carusoe CST714.10
Gerber 21-300
American Standard Cadet 2898.010
To name a few. Terry
Replies to this post
There are none.