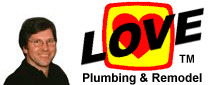 : How do you install a French drain around a house? And would it be hard for me to do it myself instead of hiring a contractor.
:
We constructed a French drain across the back of our house and down the side yard to the street. The total length of the trench was about 120', and it is 2-4' deep the length of the trench, so that was a LOT of dirt to move. We rented a really small backhoe from a local rental place (`$150/day delivered) and were able to do some of the digging that way (and using a backhoe is really fun!). Much was done by hand though, and we had to hire some laborers to help ($10-12/hr). In this case we installed 4" perforated pipe and 3/4' drain rock, all of which we enclosed in heavy filter cloth. The important things about using pipe are a) that you build in a drop at least 1/10" per foot so the water runs down the pipe, and b) you install the pipe with the narrow space between the holes in the pipe facing down, even though that seems odd. I can explain better if you write to me.
The whole project, including rental equipment, hired labor, pipe, 7 cu. yards of rock, filter cloth and lunches for friends who came to help, cost about $1000 since we did much of the work ourselves. Its a big project, and it took a few days, but we haven't had a drop of water in our basement since we did it. Also, I believe that a huge proportion of the water is held/carried by the rock, so you could easily do this project without the pipe, but don't skip the filter cloth since it keeps dirt from filtering into your rock channel and clogging it up. Good luck!