Re: Low Flow Toilets That Really Work!
Posted by Terry Love on April 16, 19100 at 21:15:47:
In response to Re: Low Flow Toilets That Really Work!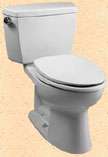 : :I am remodeling a bathroom. Both baths have Eljer low profile elongated toilets and both have given me problems with flushing in spite of the fact that they were installed before 1992 and have a capacity larger than the 1.6 gal. Have considered putting in pressure assisted but would prefer to save money by putting in good perfoorming gravity flow. Was told that Jacuzzi has had good record but also told that they are made by Eljer. Where can the Gerber's and Toto's be seen in or around Harrisburg, Pa. Home Depot nor Lowe's has them on display Jim
The local plumbing contractors should be able to help out. I would check the Yellow pages under plumbing fixtures for showroom locations. There are many good products, like Gerber and that sell to the plumbing professionals. Knowledge is a good thing. Terry


Replies to this post
There are none.