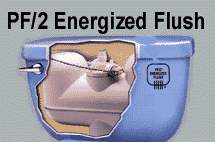 I have tried the Eljer Aqua Saver with the PF/2 inside the tank. It was quieter than the Flushmate, but still startling. I preferred the Gravity Eljer Patriot over the PF/2 Eljer Aqua-Saver. I have not rated the Aqua-Saver with the other toilets in the toilet report as it still required two flushes to clear the bowl in some cases. Granted, it was an early model, I hope the newer ones work a bit better. I mentioned this dissatisfaction with the PF/2 unit to Jeffrey Goldberg of WP Industries, Inc., the makers of Western Toilets. He promised to send me their new one for testing when it is ready for the market. Below are his comments on their new PF/2 model.
" In tests it matches the best of them in ANSI flush tests (performed by US Testing) achieving 80% in Class IV - the toughest and highest level. It is about equal - slightly behind, Gerber which achieved 83.4%. BUT our drain line carry is 58.5' Vs. 54' for Gerber and most importantly, we have maintained most of our bowl wash. As you know bowl wash and pressure flush don't go hand in hand with anyone else. I think we've done it again - re-invented the category like we did with Gravity flush."
WP Industries, Inc.
Jeffrey Goldberg
Makers of "The Best Flushing Toilets in America"
Terry Love's Consumer Report on Toilets
http://www.terrylove.com/crtoilet.htm
The PF/2 Energizer system has been discontinued. Sloan Flushmate offers a changeout kit for more fixtures. The kit contains everything needed to change out the system to Flushmate. Below is the list of OEM tank model numbers and Flushmate part numbers for the changeout kit.
Crane Tank # 3612, FM KIT M-101526-F3CK
Eljer Tank # 141-7000, FM KIT M-101526-F3EK
Peerless Tank # 1, FM KIT M-101526-F3PK