Low flow toilet w/ old fashioned look ?
Posted by kit on March 22, 19100 at 01:53:49:
I read your report on low flow toilets. Thank you. this was great info. I'm replacing two toilets in an older cottage. The toilets on your list all look pretty comtemporary in style. Any suggestions as to one with more traditional styling? Or do I have to sacrifice image to function? Thanks in advance for any help.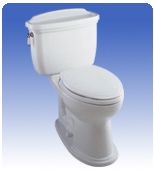 Toto CST754SF Dartmouth
Check out this model. It's got the style and theperformance.


Replies to this post
There are none.