Re: Kohler Toilets only fair?
Posted by Terry Love on March 06, 19100 at 00:37:14:
In response to Re: Kohler Toilets only fair?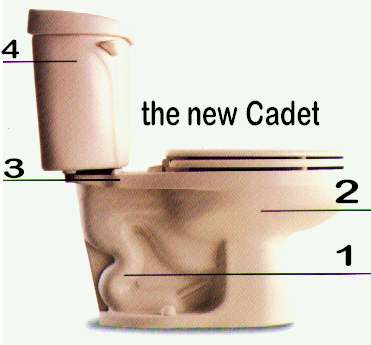 : I was checking out the "consumer reports" section of this website and it listed the Kohler Wellworth as only fair. A relative of mine who is a retired plumber suggested I buy a Kohler because he liked them. This Wellworth model has an elongated bowl. The number on the bowl box is 4276-0. It will be installed in the basement where there is a 36" straight run to where the sewage pump resides. I DO NOT want a poor performing toilet. I don't mind flushing twice once in a while but I don't want to be plunging all the time either. Should I return the toilet? If so, could you list some good replacements that cost around $150 and are available at home improvement stores like Menard's? Thanks for your help.
The model you have is the Wellworth K3422
A toilet you could find at Menard's?
See if they have the Cadet EL Toilet, 2898.012
Replies to this post
There are none.