Re: LOUD noises in water pipes
Posted by Terry Love on January 13, 19100 at 20:58:53:
In response to Re: LOUD noises in water pipes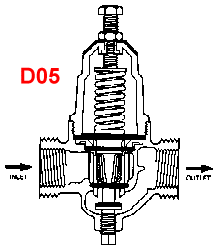 : If the pressure in the street supply drops below
: the pressure in the house pipes, will a pressure
: reducing valve start chattering (as it tries to
: adjust to the different pressures) and cause the
: noise that I am having? My neighbor across the
: street had the same noise at the same time on 3
: different days.
Charlie,
PRV valves can cause chattering noises. The link below are tips you can try. Sometimes, you can run the adjustment up and down a bit and try to dislodge whatever is cause the problem in the cartridge. Water towers fill in the middle of the night. The highest pressure at the street will be before water starts being used for the day. Terry
Replies to this post
There are none.