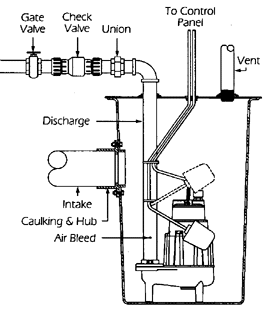 : I'm putting an apartment in my basement, and trying to keep the costs down. What's the best way to handle the plumbing? The sewar drain is about 1-1/2 feet up from the concrete basement floor. Should I get a holding tank and pump? Would one be enough for kitchen and bathroom? Help!!
Kathy,
The best way may be to install a sewage ejector and run the two inch discharge into a four inch line. The Little Giant pump with sump is $380 Installation of the rough-in plumbing and pump is expected to be in the ballpark of $2,880
tub, toilet, lav, kitchen sink, sewage ejector.
http://www.terrylove.com/sewage_ejector.htm
Breaking out the concrete would add $350.00
Bathtubs can be had for $125-$250
Tub surrounds go from between $375 for laminate to $1400 for some tiles.
Most of the one-piece tub enclosures are impossible to install in a basement remodel.
Plumbing fixtures, sink, lav, toilet, can be had for $450
Installation of plumbing fixtures for $375
Adding a dishwasher would be $435 plus the dishwasher ($180 and up)
Adding a garbage disposer would be $80
Terry