Dual flush toilets have arrived in the USA
Posted by Terry Love on December 16, 1999 at 02:45:32: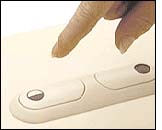 Caravelle 305 Washdown
A modern concept close coupled washdown 1.6gpf or 0.8gpf dual flush toilet featuring water saving dual flush technology and smooth rounded contours for easy cleaning. The bowl has been designed with a 12" outlet and overall length from the finished wall of 28 3/8". Low profile push buttons are easy to operate and have durable molded symbols to clearly identify the flushing volume.

Replies to this post
There are none.