Re: Installing Drop In Tub
Posted by Terry Love on December 15, 1999 at 20:10:54:
In response to Re: Installing Drop In Tub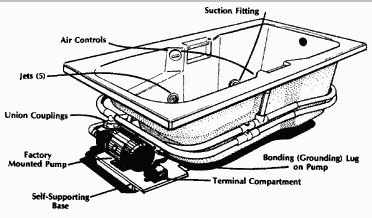 : I'm installing a new soaking tub in a bathroom remodel, I read the advice of installing a whirlpool tub and think all applies structurely.





My favorite method is to frame the tub support box to
allow about an inch clearance under the bottom of the tub. Just before the tub is set into
place, spread mortar mix on the floor. When the tub is set into place, it should be in
full contact with the mortar for support. Putting some water in the tub will help to
"hold" the tub into the mortar mix.

Terry





I will leave an inch of clearance under the tub and put cement down to set the tub. My question (being a mechanic and always having to work on others designs) is how am I to remove the tub in the future, when plumbing repairs are to be made. I will try to have accesses in the floor and there will kind of be an access in the wall behind drain and vent, (pocket door back there). What do you think about a heavy mil plastic over the cement before setting the tub.
: Thanks ,
: Joe
Joe,
Others have mentioned the plastic between tub and mortar. It should work fine. Terry

Typical customer


Replies to this post
There are none.