Re: Basement toilet sewage ejector pump
Posted by Terry Love on November 05, 1999 at 02:16:42:
In response to Re: Basement toilet sewage ejector pump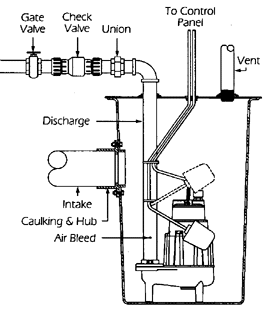 : I wish to install a toilet in my basement. Does any one know of a system that will pump (lift) the sewage
: so it can go out my soil pipe. My soilpipe exits the basement about 36" above the floor. Preferable would
: be a system that has its own holding tank. Then I could drain my laundry tub into it. don
Don,
The link below has two devices that would work. One of the most used ones is the Little Giant.
Little Giant
A floor recessed basin
Sewage Ejector Package System
(piping not included)
18"x30" molded polyethylene basin
Single piece cover (2" vertical discharge)
Snap-in vinyl hub and a 2" check valve
Includes pump #509500/9S-CIA-RFS
Includes a non-mercury remote float switch
On level 9"-14" of water
Off level 2"-6" of water
Handles up to 2" semi-solids
Shut off is 18" foot
2" discharge
15 foot power cord
4/10 HP, 80 GPM
Replies to this post
There are none.