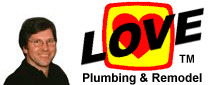 : Recently my sprinkler system started making a loud
: vibrating noise. I believe it may be the 10 year old
: pressure vacuum breaker valves (Wilkins), but I'm not
: sure.
: Is this a common problem with pressure vacuum breaker
: valves or should I look somewhere else for the source
: of the problem?
Old or new, pressure vacuum breakers usually don't make any noise.They operate after the pressure to the sprinkler system is applied by the automatic timer, which permits house drinking water be routed to the sprinkler system, and then the timer shuts off after it's cycle and the vacuum breaker opens when it detects a decrease in pressure, to prevent crossover from irrigation water to drinking water. A loud banging or vibrating noise might be coming from the automatic sprinkler control valve, especially if it is tightly mounted against the siding of the house, and the noise is transmitted to the inside. Start by opening the automatic sprinkler timer control box, and shutting off only one of the staions, while allowing the others to operate normally. If the vibration continues, turn that station back on, and turn off another till the vibration stops. This inexpensive, self-guided detective work will allow you to discover which automatic valve is vibrating, and causing the noise. Then when the station is off, disconnect the power wires to that electric valve, ensure that no pressure water is supplied to it, and unscrew it from the sprinkler riser. Take the defective valve to Home Depot and get a replacement.