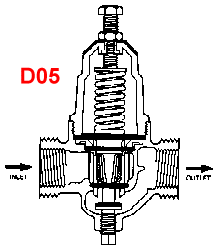 : We live in a 5 year old house, and when any water is turned on in my house, the inlet at the side of the house makes an awful vibrating humming noise that resonates throughout the house. This occurs from shower, washer, toilets etc. It seems to be flow dependent, i.e. - turn on several devices and the tone of vibration changes - sometimes goes away. We have very hard water, some neighbors complain of clogged faucet screens, and chunky white flakes.
: Please advise, any help would be greatly appreciated.
The incoming noise, could be a PRV (pressure reducing valve) Sometimes turning the adjustment screw one way or the other helps. A rebuild kit could also be needed on it.
David
White flakes in the faucet screens could be water heater dip tubes. There have been recent problems with these. You would also notice reduced hot water volume.
Terry