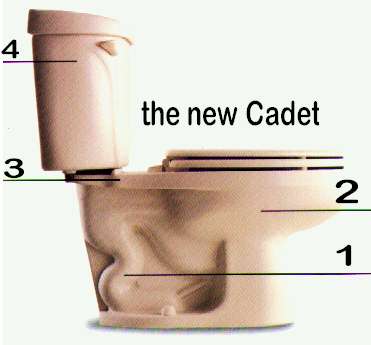 : Terry:
: Does the American Standard Cadet Pressure Assisted toilet perform significantly better than the New Cadet?
The PA-Cadet has better drain line carry than the "new Cadet". The gravity new cadet does a fine job though. TL
: What improvements does the New Cadet have compared to the Cadet II?
The inside parts of the tank are improved. Better care is taken of the trapway exit. The addition of a siphon jet to aids flushing performance. TL
Does the Cadet Pressure
: Assisted toilet have the same improvements?
The assisted cadet, will now have the quieter Flushmate. These are very different toilets. TL
Are Flushmate toilet bowls designed differently than
: gravity siphon jet bowls?
Very different. Each one is a complete unit, tank and bowl, working together. The flush action is closely matched with the bowl design. TL
: I'm also considering the Gerber Ultra flush and the Toto Drake, but I'm not sure I can get them.
All of these should be available to you. The Gerber and the Toto line are carried more by plumbing professionals.
Terry