Re: Whirring noise, PRV the culprit?
Posted by Terry Love on August 31, 1999 at 20:48:36:
In response to Re: Whirring noise, PRV the culprit?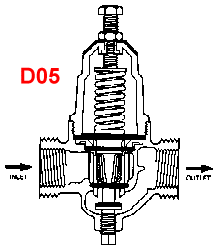 : Okay, so I'm completely stumped. We just had a whole house repipe & a basement bathroom added. We now have a noise occurring about every 5-10 minutes that I'm trying to run down & figure out what it is. It sounds like a dentists' drill and lasts for about 2-4 seconds. It varies in length and in interval. We really only hear it when the house is silent (we have 4 young children, so this means late night and early morning). I thought it might be a remote control toy somewhere, but it's been going on a week now and I've eliminated that possibility. It seems to be coming from right around the area of the new pressure reducing valve. Could it be making this drill-like noise? (starts low in pitch, revs up to a high pitch and then stops, lasts 2-4 seconds, repeats every 5-10 minutes. Only is heard when no one is using the water anywhere). I know it is not the sewage ejector because I unplugged it (both plugs) and still heard the noise.
: Thanks - Randy
Randy,
I think you are right. The PRV
Replies to this post
There are none.