Re: Plumber's opinon on the 1.6 gal toilet - do you agree?
Posted by Terry Love on July 14, 1999 at 21:53:00:
In response to Re: Plumber's opinon on the 1.6 gal toilet - do you agree?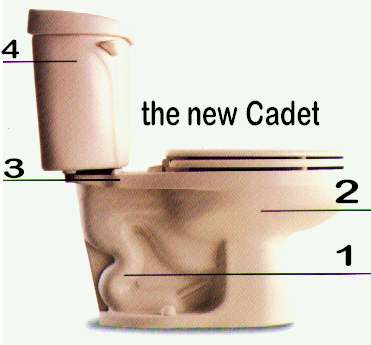 : Hi! First let me say how much I love your site. I've been researching toilets for about a month now and yours is by far the best... thanks for the information.
: We are remodeling our bathroom. When discussing my concern with buying an effective toilet, my contractor said as long as we buy a toilet that "guarantees" or promotes a 1-flush system, we're o.k. I've checked into this in our area, and the Sterling Windham seems to really promote the 1-flush concept and offers a 5-yr guarantee. The other toilets I've looked at (A.S. Cadet II, Koehler Wellworth) don't mention any guarantee. It's decision time and I'm still struggling. Any thoughts on my three choices?
: THANKS!
Derusha,
I haven't tried the Sterling Windham and have no oppinion on it. The Kohler Wellworth is not a strong performer. The Cadet II, seems to work fairly well, and I would guess that the "New" Cadet EL with the siphon jet will do better. I have one in a box that I have been meaning to install at home for testing.
If at all possible, get the elongated version. They will make the bathroom look better and are easier to use.
Terry