Re: Two Questions - Water Heater and Toilet
Posted by Terry Love on June 19, 1999 at 15:28:55:
In response to Re: Two Questions - Water Heater and Toilet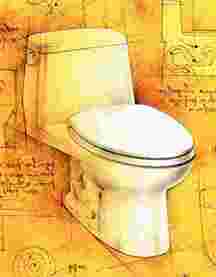 : 1. We plan to replace our 40 gallon water heater with a 90 or so gallon AO Smith gas fired water heater. Would you recommend this unit on the basis of quality and reliability?
The AO Smith model is a good brand. Most people are using the 75 gallon, 75,000 BTU models with the 4" chimney. The first hour rating on these is about 135 gallons of heated water. Terry
: 2. Which non-turboized (and therefore noisy) 1.6 gpf toilet would you recommend to "get the job done" - there seems to be a lot of conflicting advice on the best and most efficient units.
No conflict here, Check the link to toilets at the top of the advice page to go the the Consumer Toilet report. The one-piece Toto line of toilets are the best non-pressurized toilets out there. If your plumber has not tried one, he is in for a shock! Terry


Replies to this post
There are none.