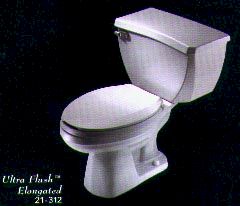 : Recently my plumber removed an old 10 inch toilet
: from my small bathroom and installed a 12 inch
: which didn't fit (damaged palster, top could not
: be removed etc.). Are 10 inch toilets still made?
: If so, can you recommend one? (I wouldn't mind
: an equivalent to the Gerber ultra flush.
Gerber makes a 10" rough Ultraflush toilet.
modell #21-300 for a street price of $357.00