Re: gerber new aqua saver 21-702
Posted by Terry Love on May 19, 1999 at 22:39:21:
In response to Re: gerber new aqua saver 21-702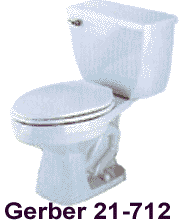 : We are looking for a toilet that will provide good waste removal, quiet, and at a low price. We have heard that the Gerber New Aqua Saver 21-702 is a good one. Plese advise.
I installed the Gerber 21-712 installed at one of my workers home for long term testing, it didn't last long.
While it seemed to work well at first, it didn't handle paper very well. There are better performing toilets out there.
When the bathroom floor was flooded, it was time to change to something else.
Map testing is at 150 grams for the 21-712.
Replies to this post
There are none.