Re: Toilet Bowl Restoration
Posted by Terry Love on May 13, 1999 at 02:10:50:
In response to Re: Toilet Bowl Restoration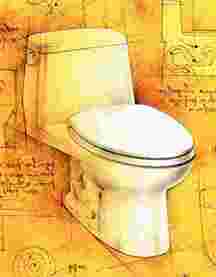 : Dear Terry,
: I would like to start off by telling you that I think your website is terrific. I recently purchased a home that was built in 1954 on Long Island, NY. My husband and I already ripped out one bathroom and rebuilt all new but we found that the new toilet, an American Standard Savona, doesn't work as good as the old one. So now we are about to start on the second bathroom and I wanted to know how I would go about finding someone to reporcelain the toilet and maybe update the color from white to hunter green. It is in good working condition we just want to make look better. I would need to find someone local and just don't know where to look.
Lori,
Thanks for the nice words. I don't know who would reporcelain the toilet, I didn't even know you could do that. Hunter green is a problem as far as new goes. If you didn't mind white, gray, beige or bone, you could use a Toto, which is the best one-piece toilet out there right now.
They are "specifing" them for hotels now.
Terry
Replies to this post
There are none.