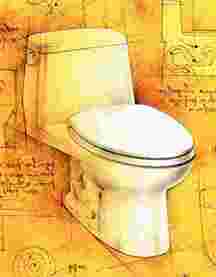 : We're adding on to our foothills cabin to make it our primary home.
: In shopping toilets, I selected the Toto CST-704L but am now re-considering
: in favor of UltraMax, MS854114S or MS853113S. Can you tell me
: if UltraMax would be a significantly better choice (our household
: is two people most of the time)? And is Toto as sound a choice
: for home as for commercial bathrooms?
: Thanks for your help.
The Toto Ultramax one-piece and the Toto Drake two-piece toilets work well for commercial and for the home. The Toto 704L is better suited for home than commercial. The advantage of the Ultramax and the Drake, is the large siphon jet for flushing, and the deeper water spot in the bowl. The Toto line seem to be the best of the one-piece toilets on the market. Terry