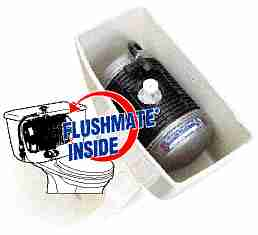 : I have an old toilet i want to replace. Is there
: a standard dimension that toilets are built for that I should
: be aware of when purchasing a new toilet to match the
: existing space ans size ?
: also I am thinking about a flushmate type toilet and would like
: to know what the minimum water presure should be in
: order for this to work. (we are on a well and sometimes
: our pressure drops below 40lbs ?
Joe,
Standard toilet rough-in, the distance from the back wall to the bolt centers, would be 12". The Gerber Ultraflush requires at least 11-3/4". Some of the Gravity tank toilets can use 11-1/4" to center because of the smaller tanks.
At least 20 PSI and no more than 80 PSI.
If your well system has sand in the water, I would consider one the the good gravity models.
The new 503 series Flushmate tanks are now made of resin would are less prone to rust outs and are quieter.
Terry