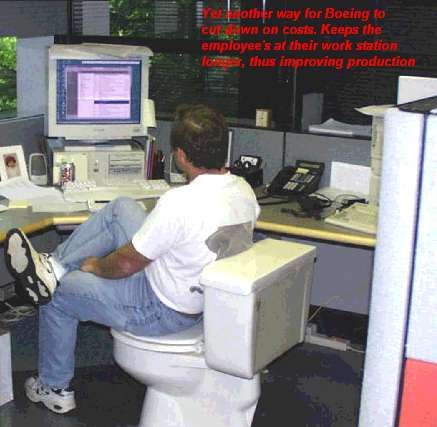 This just in! Boeing is now speeding up design time with well laid out offices. The workers were a little hesitant at first, but quickly got the hang of the new seating arrangements. Stan Smith says he no longer takes wasteful trips down the hall several times a day. "Now I can keep working. This is much better than being away from my computer at crucial inspiring times. Some of my best thinking was in the can anyway, and now I can capture the ideas quickly and efficiently while at the keyboard. I now drink coffee all day to keep at full speed without wasted trips to the can."
Ed Bradley, who came up with the idea, says, "I thought of the idea while hiking. I used a Bladder-pus, Oops, I mean a Platypus water drinking and storage device that allowed me to hike all day without stopping for fluids, and Bing! I thought wow! When you drink all day, you pee all day! I realized that peeing had never really been taken into account when trying to maximize energy and time. By giving every office worker his own toilet to use, a lot of time could be saved."
Tom Hanks was given the job of implementing the new strategy. "We realized that we could save the company more money if the toilets were water saving. We checked out the Internet toilet report at http://www.plmg.com/crtoilet.htm to locate some really cool water savers. Management was dazzled! The first week, coffee drinking was up, water use down and worker productivity way up!"
Staff reporter Terry Love