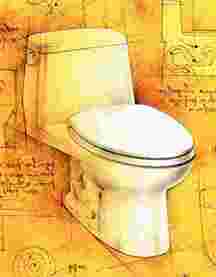 : In your "Consumer Report on toilets" you list
: the Toto UltraMax #CST854S, then later you say
: your favorite toilet is the UltraMax MSS854114S.
: 1) Is this the same toilet? Do they have equal
: flushing performance?
Same toilet, one without seat (hotel model) one with the #114 softclose seat that I like. Hence the 114 after the 854.
: Toto's web site lists the CST854 without the "S" and does not list the "MS854114S" at all. 2) Is this model a special order?
The S is for the Ultramax models instead of the Ultimate. S is for more flushing power. Kind of like Superman. More of the MS854114S are sold now than the CST854S. Most people chose to buy the toilet with the SoftClose seat.
This site gets the new information a bit sooner than theirs. Sometimes months sooner. Terry