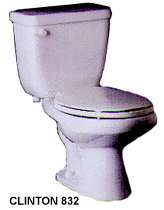 the Clinton will knock the socks off of the Portrait and the Revival which are more like the old Wellworth design which has now been improved.
In this case, you will need to balance style against performance.
Terry
: How do the Kohler toilets - specifically Portrait and Revival match up to the flushing capabilities of the Wester Clinton toilet?
: Do they have a 2" trapway?