Toto has a new ADA handicap toilet!
Posted by Terry Love on November 15, 1998 at 21:23:21: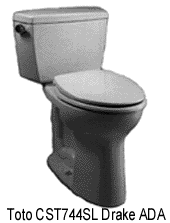 Toto's new ADA handicap toilet gives commercial flushing power using gravity and off the shelf parts for easy repair. The Drake 2Pc Close Coupled 17-1/2" ADA Height Combination, G-Max Power Gravity System w/3" Flush Valve Opening

Replies to this post
There are none.