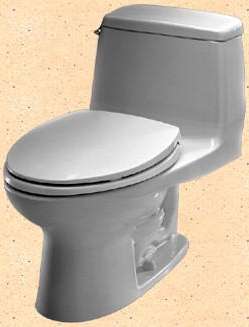 : Two part question here:
: 1) Do you know what is the shortest toilet available?
: We have a very small powder room and as far as I can tell,
: the current toilet is about 26" from front to back. It is
: an old house (but not old toilet) with about a 13" or 14"
: rough in so we lose an inch there. I saw a couple of one-
: piece toilets that are about 25.5" deep, but of course
: everything is 12" rough in. I'm trying to avoid re-
: plumbing for the rough in.
: 2) The other bathroom in the house has tiling all around
: up to about shoulder height. This includes around the
: shower/tub area. It's a painted plaster wall above that
: point, which we try to keep as dry as possible. I don't
: want to take out the existing tiling (it's in good shape
: and period) and I would like to make the area above the
: tiling in the shower/bath area more water proof. Is there
: a coating that can be used under paint to water-proof
: it? Also, it's Lathe and Plaster (not wallboard) so
: I'm kinda concerned about this area.Thanks for your help. Mike K
Mike,
A good compact toilet would be the Toto either in an round bowl Ultimate or a Ultramax.
These are 26.5 inches long with a 12" rough. This would put you out 28" from wall with a thirteen inch rough, and 29" with a 14" rough.
Other options if you have at least 14" rough are the Carlyle elongated bowl with the 14" unifit adapter. That would put you out 28" from the wall.
Terry