American Standard wall hung toilet
Posted by Keith Conant on December 01, 19100 at 05:17:01: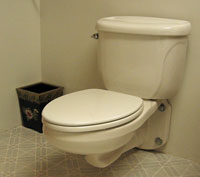 Having a terrible time replacing wall hung toilet in my master bathroom. Took out an American Standard "Glenwall" that was in terrible condition. In September I ordered through a local plumbing supply co. the American Standard #2093.100 wall hung toilet that they are supposedly now manufacturing. In Sept both American Standard the the plumbing supply co. said it would take 8 weeks. 9 weeks later the plumbing supply company says American Standard ran into a problem with this toilet and is not producing it, American Standard says it is producing it but production is slow. Don't know who to believe. The way I understand it my only other option is to switch to a Kohler wall hung which would require a different carrier. No one has mentioned to me the Crane Rexmont wall hung 3-217 toilet on your web site here. Can that replace the American Standard Glenwall without changing the carrier?

The most recent comments about the Glenwall
Replies to this post
There are none.