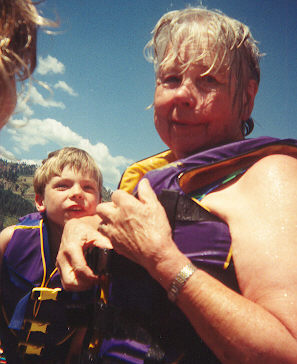 hj and John,
I asked her about her ride on the innertube, and she said she loved it!
This woman still likes to bodysurf in Hawaii and this fall wants to go with Marlena, Taylor and I to a water park in Florida. When she was 80, she swam more than a mile across the lake over the Mercer Island from the Bellevue side. The big swim
Terry Love
: I thought it was going to be like the story in Germany after the war. Messerschmidt made a smmall three wheeled car at that time. It ws called a bumblebee because of its size and the sound of its mininscule motor. One of them broke down and a Mercedes happened to come by. Seeing the problem, he offered to tow the Messerchmidt to a garage and hooked it up. Well as we all know, Mercedes on the autobahn do not poke along and pretty soon he was flying down the road, forgetting about the poor driver behind him. The towed driver started honking his horn to get the driver's attention. They went by a police officer stopped at the side of the road and after the passed, he radioed one of his buddies and told him that a Mercedes just went by at full speed and a bumblebee was honking to pass him. I thought maybe Grandmother was the bumblebee.
: : My 82 year old Grandma was watching us all go innertubing behind my Uncle Randy's speed boat, laughing and flipping into the water when they went back and forth over the wake of the boat. Pretty soon she asked for a ride on the innertube. She put on a life-preserver and climbed onto the tube. Uncle Randy pulled Grandma nice and slow, very careful. We were worried because she is so old. When we looked back she raised up her thumb and we all said,
: : "She wants to go faster, I think!"
: : So Uncle Randy moved the lever forward and the boat went faster. But, she raised up her thumb again and so we went faster. She asked to go faster and faster. Pretty soon, we were going really fast!
: : She was zipping back and forth over the wake. She would go up and over the wake and spin around with her legs going in big circles. Back and forth she went, water splashing into her face and bouncing up and down. And then she fell off the tube and skipped like a rock over the water!
: : We were all worried for her. My cousin Rex said,
: : "I think we killed her!"
: : She slowly swam back to the boat, and slowly pulled herself into the boat with our help. When she came up to the boat we were all worried. Then she turned to us and said,
: : "Whoeee! That was something!"