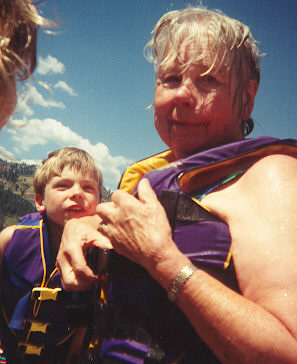 My 82 year old Grandma was watching us all go innertubing behind my Uncle Randy's speed boat, laughing and flipping into the water when they went back and forth over the wake of the boat. Pretty soon she asked for a ride on the innertube. She put on a life-preserver and climbed onto the tube. Uncle Randy pulled Grandma nice and slow, very careful. We were worried because she is so old. When we looked back she raised up her thumb and we all said,
"She wants to go faster, I think!"
So Uncle Randy moved the lever forward and the boat went faster. But, she raised up her thumb again and so we went faster. She asked to go faster and faster. Pretty soon, we were going really fast!
She was zipping back and forth over the wake. She would go up and over the wake and spin around with her legs going in big circles. Back and forth she went, water splashing into her face and bouncing up and down. And then she fell off the tube and skipped like a rock over the water!
We were all worried for her. My cousin Rex said,
"I think we killed her!"
She slowly swam back to the boat, and slowly pulled herself into the boat with our help. When she came up to the boat we were all worried. Then she turned to us and said,
"Whoeee! That was something!"